Team Member Spotlight
Rae Ellis - Office Manager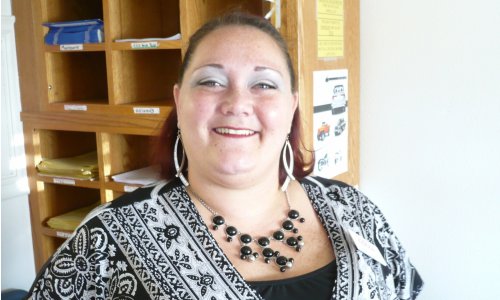 If you've ever come into our office during the last couple of years you know you've been greeted with a friendly smile, some candy, and perhaps a joke or two. Rae is our office manager and she does an excellent job of running the front office. Our residents love her friendly easy going personality and helpful nature. Rae really goes the extra mile to help our residents feel at home and to help them in any way she can. She has lots of energy, is very organized, and sees that important tasks are completed in a timely manner.
Rae was born and raised in Provo UT. She is a single mom to one daughter who she affectionately calls her "demon spawn". She is close with her family and loves to get together with her sisters. She enjoys getting her nails done and has a new design done for every holiday. Rae also likes to read sic-fi books, crochet, and playing at the park with her daughter.
While going to college Rae worked full time and went to school full time. She Studied at Provo College and received a degree in office administration in 2010. Once she graduated she was soon hired on by our company as a leasing agent. Rae quickly demonstrated great competence, commitment and skill in her work and was soon promoted to office manager. We are grateful to have Rae as part of the Harman Management Team.